On August 29, 2017, India celebrated National Sports Day to commemorate the birth anniversary Indian Hockey legend Dhyan Chand. It is also the day when we celebrate the achievement our Indian sports have earned in recent years. Be it PV Sindhu in badminton, Mithali Raj in women's cricket team ahead or Virat Kohli in Indian men's cricket team to the top position, there has been a great achievement by sportspersons.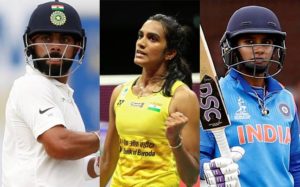 Let us check what makes our Indian sports reach global level: Global Sports Power
Indian Men's Cricket Team:
Over the centuries, cricket has been the major strength of Indian sports and continues to be one. With having two World Cup wins in the kitty, Indian cricket team is getting stronger. Virat Kohli has been leading the Indian team very smartly in both Test and ODI version. Be it home or overseas, Indian cricket team has achieved a lot under the captaincy of former captain MS Dhoni and present captain Virat Kohli. Kohli has been smashing records in both the version and is really taking over Sachin Tendulkar in terms of records.
Indian Women's Cricket Team:
Indian women's cricket team isn't behind and has reached the World Cup final in England last month. Mithali Raj, Harmanpreet Kaur and Jhulan Goswami really showed up their sporting talent during the game. Harmanpreet Kaur scored a blistering 171 not out against Australia during semifinal match, Jhulan, on the other hand, was the leading wicket taker in the ODI. This achievement has really pushed the cricket team to a new level.
Achievement in Badminton:
Be it Saina Nehwal winning bronze in the 2012 London Olympics of PV Sindhu winning two bronze and silver, Indian badminton has really achieved a whole new level. Additionally, B Sai Praneeth won three titles this year, thus clearing the surge of medals in Badminton and making India proud for the achievement.
This is really the best time for Indian sports arena to celebrate the sporting scenario in India. While Indian cricket is achieving a good position, other sports too are earning a good stand in the global level.