India's real estate industry is a vital cog in the country's economy. This sector is one of the major employment providers as well as a key player in pushing infrastructure development and connectivity. The strong economic growth of the country is one of the factors behind the growth of the real estate sector.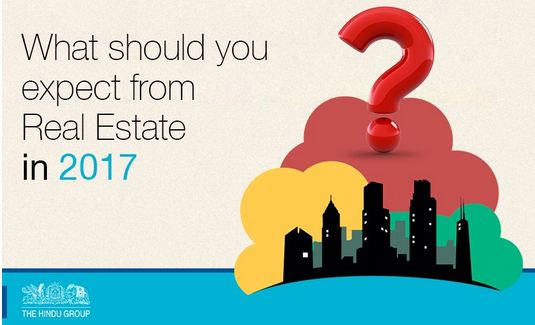 Recently Deutsche Bank projected India's GDP growth at 7.8% in 2017. So what can we expect from the real estate industry in 2017?
FOR THE BUYERS:
Home loan interest rates will continue to drop
Right now, home loan interest rates vary from 9.25-11% and are amongst the lowest in the last 5 years.
Demonetization impact on residential real estate
Demonetization augurs well for home buyers, at least in the short to medium term period. While builders are not expected to reduce prices, industry experts say they will be more open to negotiating on property price and other benefits. Also, in resale and land transactions, look out for distress sales. In luxury housing, prices are expected to fall in the short to medium term, which means more options for home buyers.
FOR THE BUILDERS:
Real Estate Regulatory Act
The introduction of the Real Estate Regulatory Act has been a revolutionary initiative. According to RERA, builders have to park 70% of project funds in bank accounts. This will place the onus on builders to focus on finishing up projects impacting the number of project launches.  The Government of India hopes the Act will bring in transparency and enforce timely completion of projects.
Infrastructure development will boost real estate
As infrastructure projects get more financial backing from the government, stalled projects across the country are expected to get a kick start. Better infrastructure results in better connectivity across locations which can catalyse commercial and residential real estate.The "Housing for All by 2022" scheme is an ambitious plan to provide affordable housing for people of the economically lower segment, slum rehabilitation and subsidy for house construction.
Unsold Inventory – A headache for developers
The Indian real estate has been faced with a crippling rise of unsold inventory; especially in the past few years. A spectacular rise in property rises since 2012 is credited with causing this scenario. According to rough industry estimates, unsold inventory in Mumbai is 1.73 lakh units while Bengaluru and Noida have 1.08 lakh and 1.01 lakh unsold units respectively. As per the Reserve Bank of India, the nationwide housing price index has slowed to 13.7%.
The real estate industry has high hopes from 2017. Homebuyers and developers both are equally bullish on the sector in the coming year. Various government initiatives to regulate the industry and to boost our economy should create a scenario of economic and infrastructure development, better connectivity leading to better productivity can, in the long term, influence the Indian real estate industry.